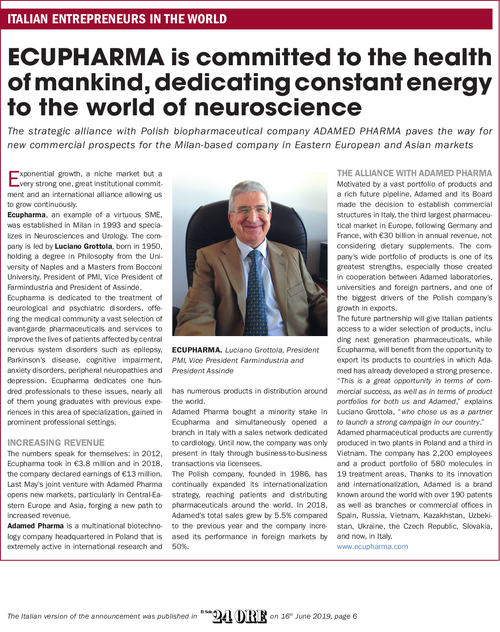 This is the announcement that was published ion 16th June 2019, page 6 of the Sole 24 ore:
ITALIAN ENTREPRENEURS IN THE WORLD
ECUPHARMA is committed to the health of mankind, dedicating constant energy to the world of neuroscience The strategic alliance with Polish biopharmaceutical company ADAMED PHARMA paves the way for new commercial prospects for the Milan-based company in Eastern European and Asian markets Exponential growth, a niche market but a very strong one, great institutional commitment and an international alliance allowing us to grow continuously. Ecupharma, an example of a virtuous SME, was established in Milan in 1993 and specializes in Neurosciences and Urology. The company is led by Luciano Grottola, born in 1950, holding a degree in Philosophy from the University of Naples and a Masters from Bocconi University, President of PMI, Vice President of Farmindustria and President of Assinde. Ecupharma is dedicated to the treatment of neurological and psychiatric disorders, offering the medical community a vast selection of avant-garde pharmaceuticals and services to improve the lives of patients affected by central nervous system disorders such as epilepsy, Parkinson's disease, cognitive impairment, anxiety disorders, peripheral neuropathies and depression. Ecupharma dedicates one hundred professionals to these issues, nearly all of them young graduates with previous experiences in this area of specialization, gained in prominent professional settings.
INCREASING REVENUE The numbers speak for themselves: in 2012, Ecupharma took in €3.8 million and in 2018, the company declared earnings of €13 million. Last May's joint venture with Adamed Pharma opens new markets, particularly in Central-Eastern Europe and Asia, forging a new path to increased revenue. Adamed Pharma is a multinational biotechnology company headquartered in Poland that is extremely active in international research and has numerous products in distribution around the world. Adamed Pharma bought a minority stake in Ecupharma and simultaneously opened a branch in Italy with a sales network dedicated to cardiology. Until now, the company was only present in Italy through business-to-business transactions via licensees. The Polish company, founded in 1986, has continually expanded its internationalization strategy, reaching patients and distributing pharmaceuticals around the world. In 2018, Adamed's total sales grew by 5.5% compared to the previous year and the company increased its performance in foreign markets by 50%.
THE ALLIANCE WITH ADAMED PHARMA Motivated by a vast portfolio of products and a rich future pipeline, Adamed and its Board made the decision to establish commercial structures in Italy, the third largest pharmaceutical market in Europe, following Germany and France, with €30 billion in annual revenue, not considering dietary food supplements. The company's wide portfolio of products is one of its greatest strengths, especially those created in cooperation between Adamed laboratories, universities and foreign partners, and one of the biggest drivers of the Polish company's growth in exports. The future partnership will give Italian patients access to a wider selection of products, including next generation pharmaceuticals, while Ecupharma, will benefit from the opportunity to export its products to countries in which Adamed has already developed a strong presence. "This is a great opportunity in terms of commercial success, as well as in terms of product portfolios for both us and Adamed," explains Luciano Grottola, "who chose us as a partner to launch a strong campaign in our country." Adamed pharmaceutical products are currently produced in two plants in Poland and a third in Vietnam. The company has 2,200 employees and a product portfolio of 580 molecules in 19 treatment areas. Thanks to its innovation and internationalization, Adamed is a brand known around the world with over 190 patents as well as branches or commercial offices in Spain, Russia, Vietnam, Kazakhstan, Uzbekistan, Ukraine, the Czech Republic, Slovakia, and now, in Italy.