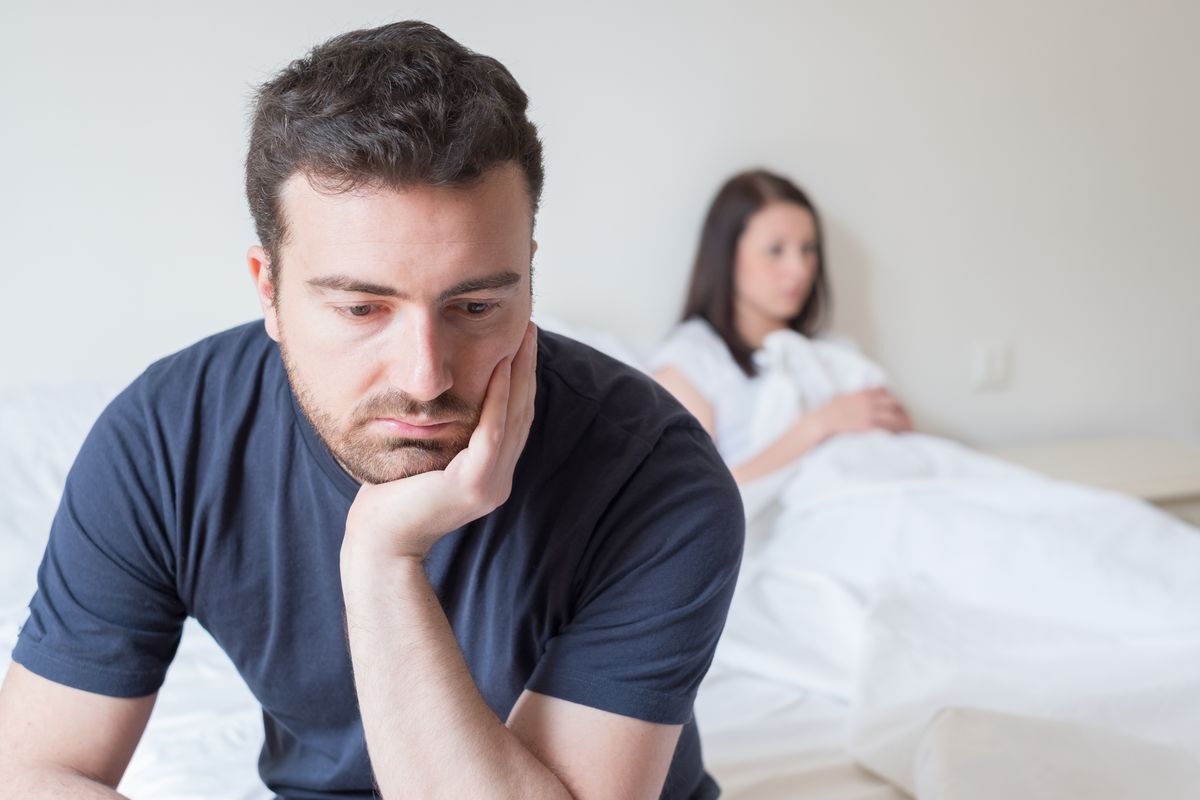 Erectile dysfunction (ED), one of the most common male sexual disorders, is defined as the persistent or recurrent inability to achieve and maintain an erection sufficient for satisfactory sexual intercourse.
ED is a multifactorial problem resulting from a gradual progressive alteration of all the components that underlie the mechanism of erection, including biological, relational, intrapsychic and social factors, which interferes with the quality of life of both the individual and the couple.
It can occur at any age, from youth to old age, and for some men it can be an occasional problem, for others a frequent problem. In any case, ED is a condition that should not be undervalued because it can often be a warning sign of other diseases, sometimes serious ones.
cigarette smoking
alcohol
dyslipidaemia
presence of cardiovascular diseases, such as hypertension
diabetes mellitus
hormonal disorders, such as low testosterone levels
urogenital infections


In addition, several drugs can directly or indirectly induce erectile dysfunction, including antihypertensives, antidepressants and sedatives, as well as alcohol and drugs, which, in the medium to long term, cause neurovascular damage.
Psychological causes include depression, guilt feelings and inadequacy, worries, stress and anxiety, all of which contribute to inhibiting the erectile response and sexual desire.
With regard to diagnosis, the correct approach is to take an anamnesis and an objective examination to identify possible causes, concomitant drug therapies or pathologies with a prevalent psycho-relational component that affect sexual function.
The pharmacological treatment of erectile dysfunction is currently based on the use of 5-phosphodiesterase inhibitors (PDE5i) which, when administered orally, are able to induce erection by promoting blood flow to the penis following sexual stimulation. Because of their efficacy and tolerability, the main guidelines on the subject agree that PDE5i is a first-line treatment (level of evidence: 1a; strength of recommendation A) for the treatment of ED.
References:
• McCabe, Marita P., et al. "Definitions of sexual dysfunctions in women and men: a consensus statement from the Fourth International Consultation on Sexual Medicine 2015." The journal of sexual medicine 13.2 (2016): 135-143.
• Jannini, E. A., McCabe, M. P., Salonia, A., Montorsi, F., & Sachs, B. D. (2010). Controversies in sexual medicine: Organic vs. psychogenic? The Manichean diagnosis in sexual medicine. The Journal of Sexual Medicine, 7(5), 1726-1733.
• http://www.salute.gov.it/portale/fertility/dettaglioContenutiFertility.jsp?lingua=italiano&id=4560&area=fertilita&menu=malattie
• Porst, Hartmut, et al. "SOP conservative (medical and mechanical) treatment of erectile dysfunction." The journal of sexual medicine 10.1 (2013): 130-171.
• Hatzimouratidis, K., Amar, E., Eardley, I., Giuliano, F., Hatzichristou, D., Montorsi, F., ... & Wespes, E. (2010). Guidelines on male sexual dysfunction: erectile dysfunction and premature ejaculation. European urology, 57(5), 804-814.
• American Urological Association The Management of Erectile Dysfunction (2005).
Our products
Medicinal products:
Dalerpen - Tadalafil - 5mg 10mg 20mg film-coated tablets
Log in to the Reserved Area to view the complete product information sheets